Here at Miaim, we provide a selection of generic dolls house sizing, as well as unusual sized dolls houses.
1:6
"Playscale" or "Fashion Doll" houses are scaled at 1:6 (1 inch is equivalent to 12 inches). This is really common scale for dollhouses for younger children. These dollhouses are sized to fit common children's dolls, such as Barbie.
1:10
Size 1:10 dollhouses originated in Europe and are made to the metric scale
1:12
This is often referred to as the one-inch scale, which measures at one inch to one foot. This scale was made popular among artisan miniature collectors when this particular sizing was chosen as the scale for Queen Marys doll house and still to this day, it is the most common and most widely available size of doll house for collectors.
Limited Addition Dollhouses
We often supply limited addition dolls houses and dollhouse accessories. These can vary in size and some even differ from the standard sizes. Some are produced in small numbers and some are handmade one-off additions.
We can also supply custom made doll houses to fit any scale or preference, just get in contact today to find out more. Before work begins on creating your custom dollhouse we will ask for your specifications regarding scale, as well as the number of floors and layout you'd prefer. We come up with a floorplan for the dollhouse before construction starts to make sure you are 100% happy with the design and, in turn, the final outcome. We have a selection of different options when it comes to our custom made dollhouses, keep reading to find out more or get in contact with us today.
We are currently giving our website a facelift to include all of our products online, until then, we provide free brochures for each variation of the dolls houses that we provide scales 1:6, 1:10 & 1:12.
You can get an individual brochure for each of our standard sized dollhouse sizes. This includes dollhouses, furniture and characters, all scaled to perfection.
Our limited edition brochure changes so frequently, so to avoid disappointment, please be sure to check with us if the product you are after is still available.
Our custom made dollhouse brochure details all of the different supplies, decor and parts that you could opt for when choosing how to design your dolls house.
The structure includes all of the main elements to make up the dollhouse including internal and external walls, as well as any electrical fittings that may be required.
Shell
The shell is the basic structure of the dollhouse, all of our custom made dolls houses are wooden, however, you can choose the specifications regarding size and layout.
Electrical
This stage is completely optional. Including electric lights in your dollhouse can emphasise the décor and is a nice feature to have in general.
Lighting
We offer a selection of different lighting including ceiling lights, wall lights and table lights. Each come in a range of different styles to match your theme.
Clapboard
Clapboard can be used to decorate the exterior of a dollhouse. We supply stucco and brick exteriors that can give your dollhouse a more realistic look. The exterior can also be painted if you prefer.
Windows & Doors
We offer different styles of windows, including bay windows, as well as a selection of both internal and external doors.
Stairs
If you decide to go for a multi-story dollhouse, stairs can be an excellent addition. Whether you are looking for spiral or straight stair cases, get a brochure today and see what we have to offer!
Wallpaper and Paint
Interior walls of your custom made dollhouse can be either painted or wallpapered, depending on preference.
Flooring
We offer a wide range of flooring options including laminate, wooden, carpet and tile. Each come in a variety of colours.
Exterior
Exterior trim can be used to enhance your dollhouse by adding finishing's to entry ways and windows.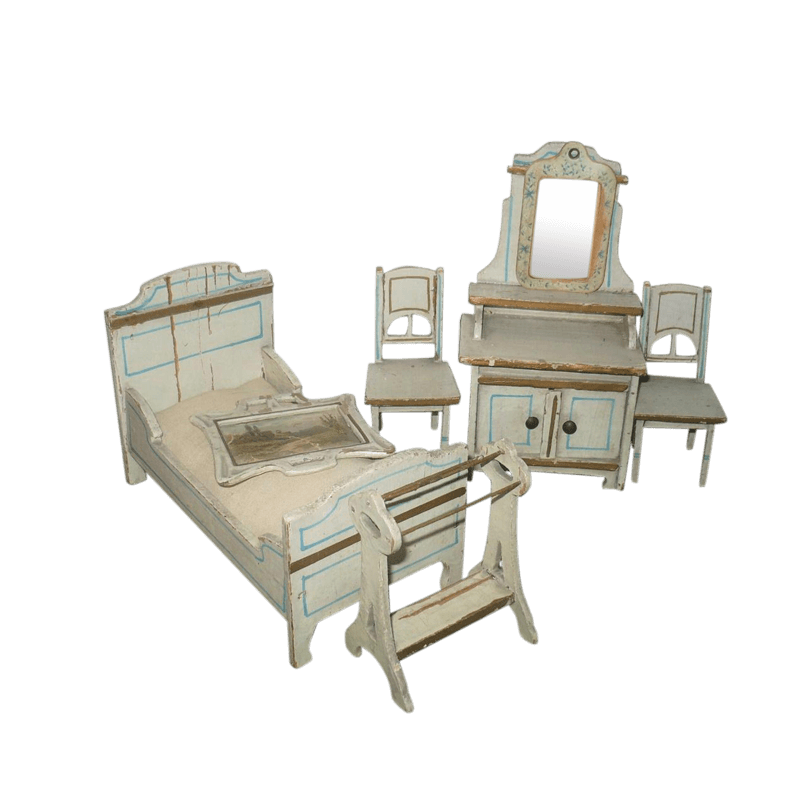 Depending on the scale of your dollhouse will depend on what brochure will be right for you. We supply all kinds of furniture.
Check out what kind of dolls house accessories we supply:
Don't see what you want in our brochure? Get in contact and we'll see what we can do.
Protecting Your Dollhouse from Damage
Ensuring you get the most out of your dolls house lifespan is essential to many. Here are some tips for protecting your dollhouse;
Keep away from mould and mildew, ask a damp specialists advice!
Keep out of direct sunlight
Keep away from pets
Dust your dollhouse regularly
Try to avoid extreme temperatures
MIAM offers cheap furniture for every room in your dolls house